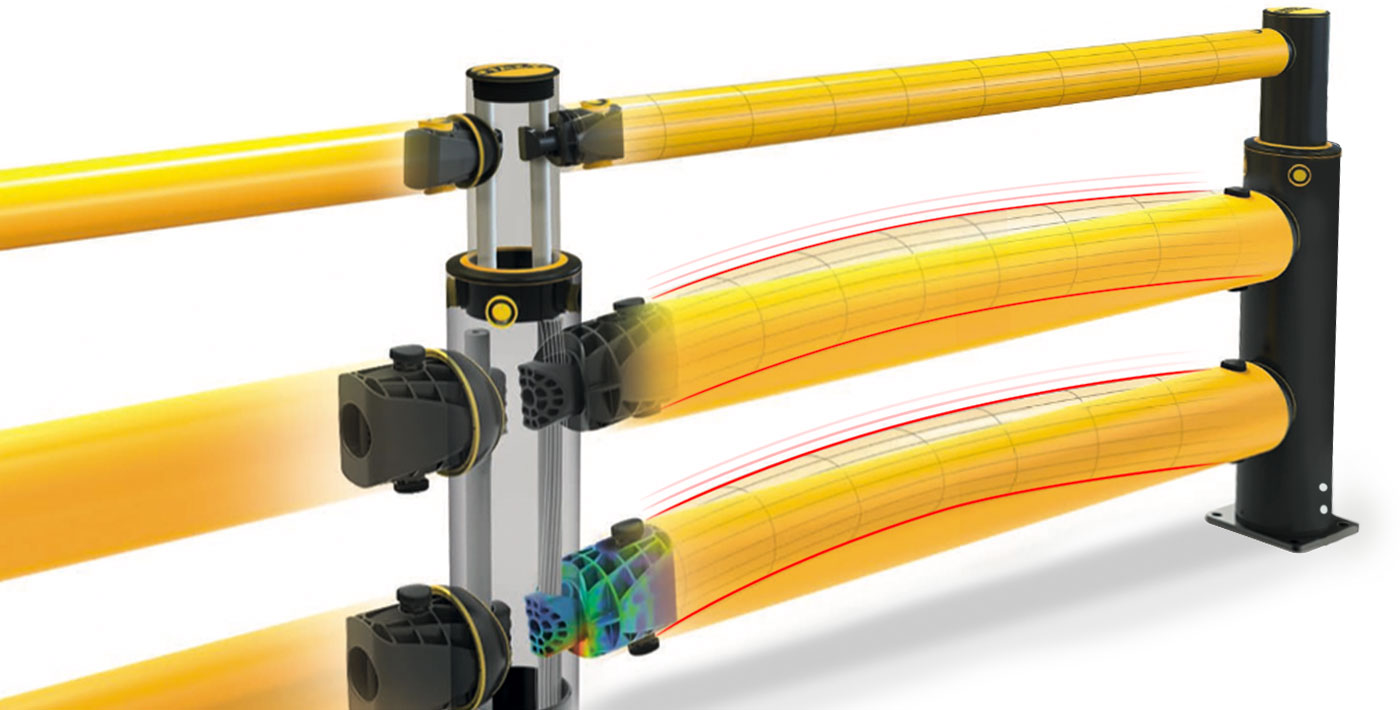 Most people that work in manufacturing facilities, warehouses and other industrial environments are familiar with safety barriers, bollards, and other products designed to avoid damage to equipment and pedestrians from collisions by forklifts and other heavy equipment. Traditional steel devices fulfill their purpose, but require upkeep, maintenance and replacement to stay functional and eliminate damage and unsightly wear and tear from collisions.
Enter flexible collision protection from A-Safe. A-Safe's revolutionary range of flexible barriers and bollards provide a number of innovative improvements over standard steel devices that reduce costs, reduce maintenance and avoid critical damage. These improvements translate into significant returns on investment within the first few years.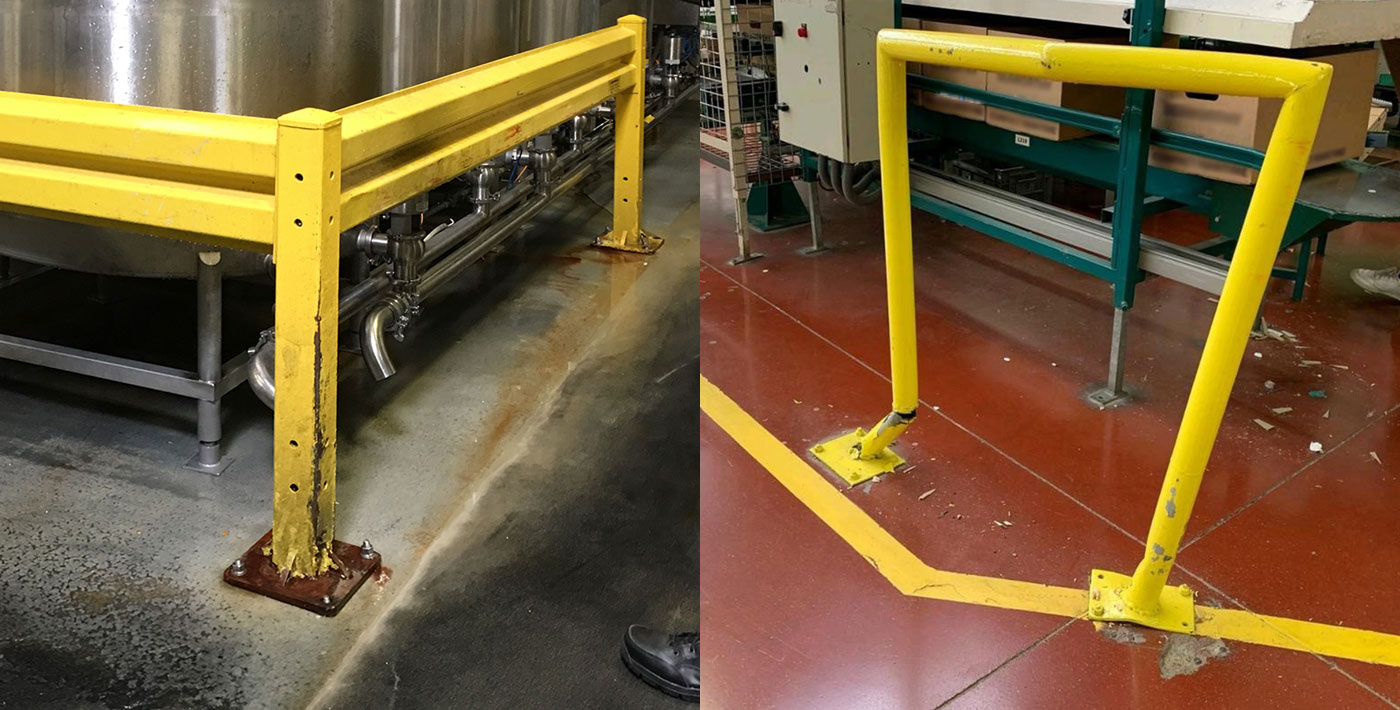 1. No more damage to bollards and barriers when impacted
Unfortunately, a great many safety barriers, bollards and columns DO get struck by forklifts and trucks. A typical busy environment can require replacing of up to 20% of barriers and bollards annually when using steel solutions. Estimates put collisions to individual devices in some high traffic areas at dozens of impacts each year. If you look at the collision protection products in your own facility, the impacts are likely clearly visible.
Although many impacts can be relatively minor (such as sideswiping), just one significant strike can completely destroy a steel guardrail or bollard, requiring replacement and other repairs. Unlike steel barriers and bollards, which transfer collision force to their weakest points like the floor mount, A-Safe flexible safety barriers and bollards ABSORB the impact- flexing a few inches- and bounce back immediately to their original state.
This is accomplished by several patented mechanisms in the product including the unique guardrail material, joints, and rotating collars. A-Safe products are capable of withstanding impacts from up to 8.8 tons of weight at 6mph with no damage! Additionally, because they are made from a colored PVC material, there is no visible damage after impact and no metal-on-metal damage to your forklifts.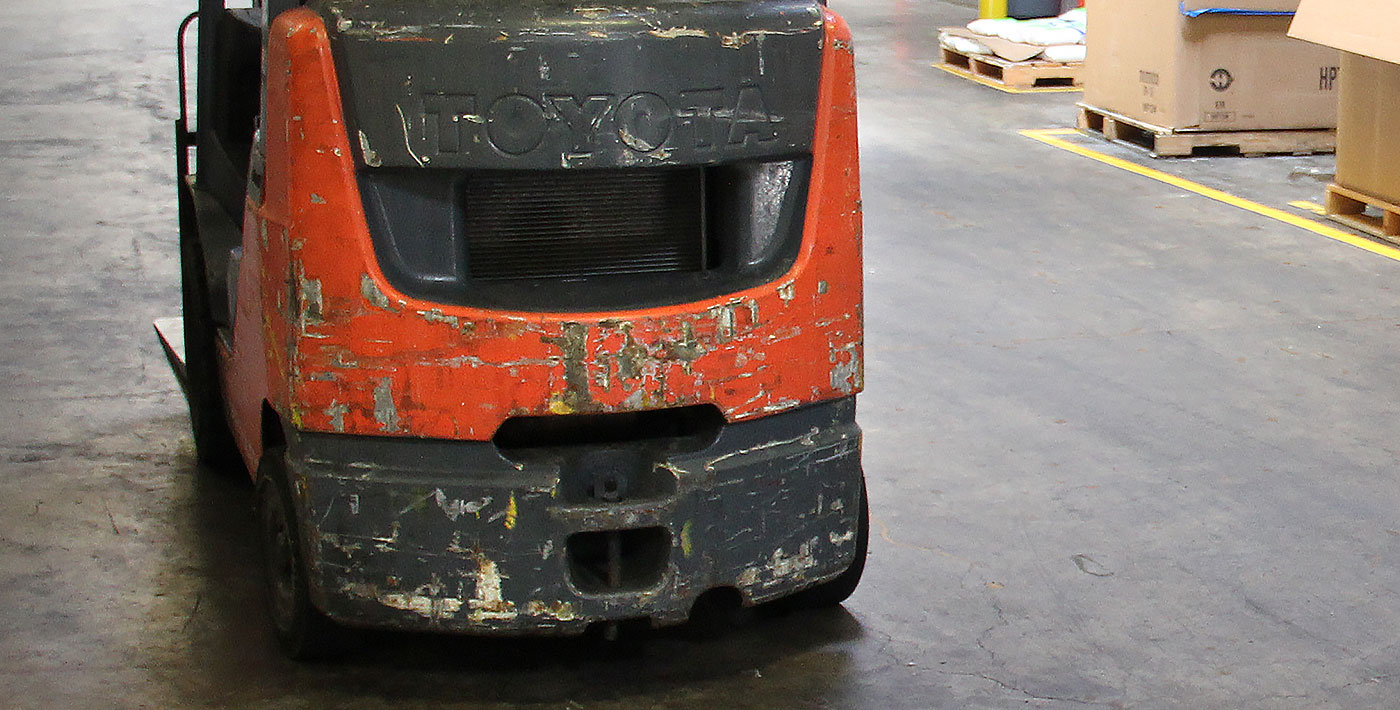 2. No more damage to forklifts
Forklift damage from bollard, barrier and column collisions is widely commonplace. Most forklifts we've seen in facilities we do work and installs in have significant damage to the rear and front ends from impacts over the years. These impacts don't just affect the outside of the equipment- it can also cause damage to the motor and structural integrity of the forklift. Having a forklift with excess physical damage to the chassis also can often make employees care less overall about maintaining the integrity of the vehicle.
When forklifts strike A-Safe flexible products, all the impact force (up to 28,950 joules) is absorbed directly by the device, meaning the forklift bounces off unscathed, and the device reforms immediately. No buckling, paint chipping or scuffing- no damage.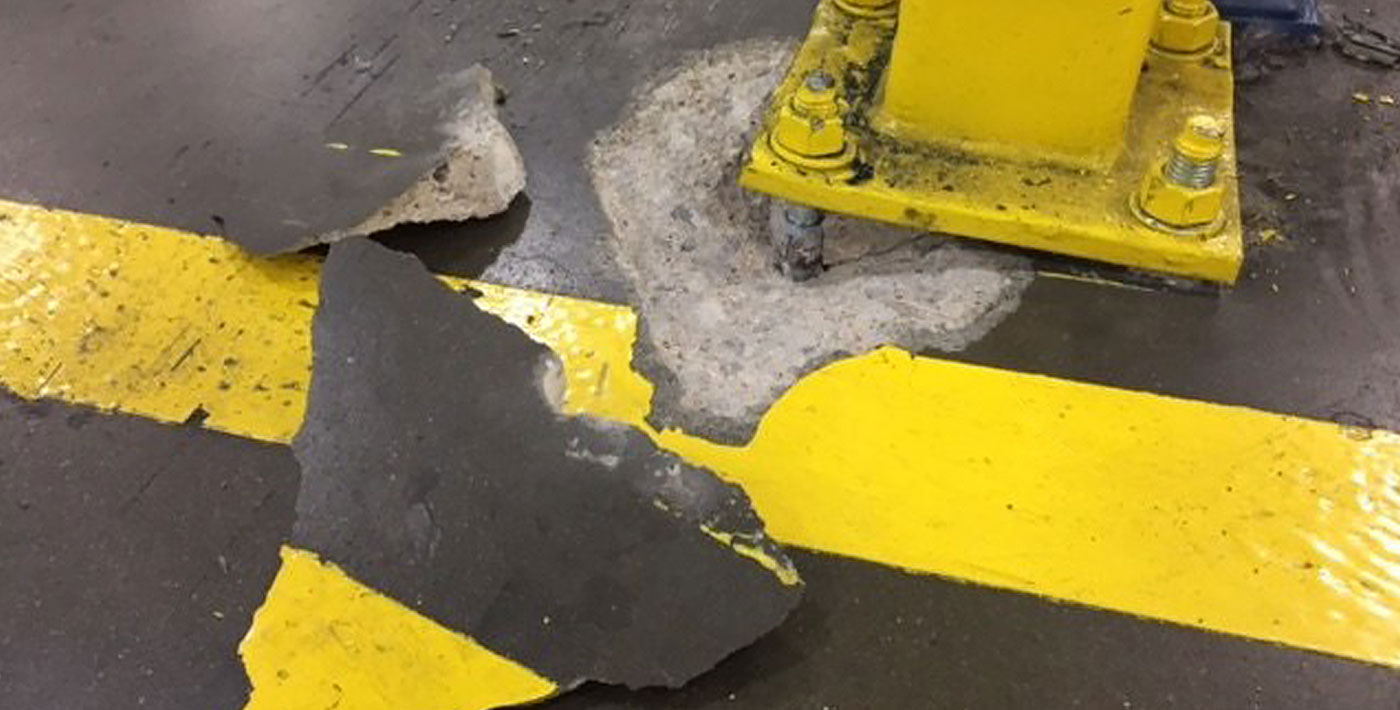 3. No more damage to floors
One often overlooked downside to steel barriers and bollards is the damage they cause to floors upon collision. As we mentioned before, when a forklift strikes one of these devices, the impact force transfers to weak parts of the device- often times this is the joint between the device and where it bolts into the floor. When it's struck, the cement where the bolts are mounted can often pull up and buckle, creating damage to the floor. Repairing these damages cost up to $300 per baseplate affected. Epoxy-treated floors incur additional expenses to repair.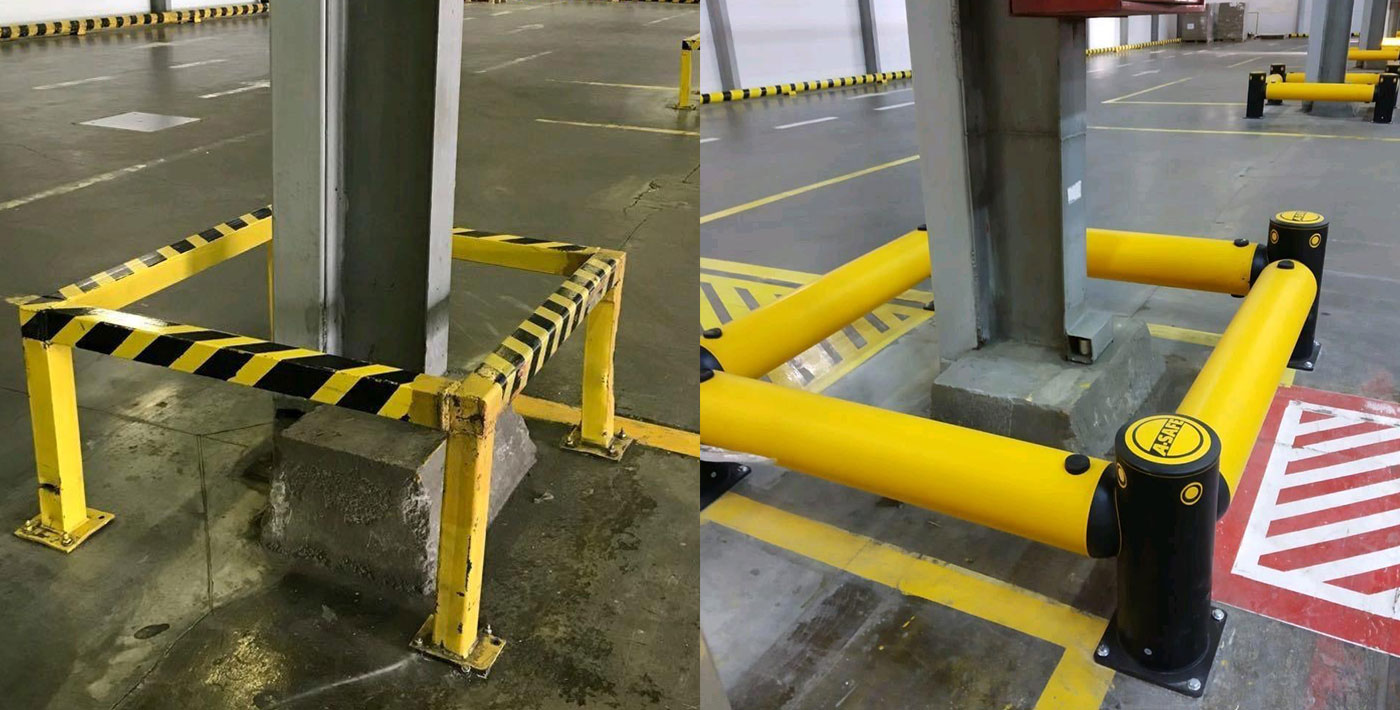 4. Colored polymer material requires no repainting or touchups
One of the services that Kasama provides is repainting steel barriers, bollards, rack guards and other devices that have been struck by forklifts to help renew their appearance and eliminate scrapes and scratches, so we've seen firsthand how big of a problem this is.
A-Safe products are engineered using colored flexible PVC polymer materials, meaning they don't discolor or chip on impact and don't require repainting or other touch-up services aside from standard cleaning and sanitizing. Paying for repainting services to renew your steel devices can be costly, whereas the maintenance costs for PVC products is effectively just the cost for the cleaning solutions.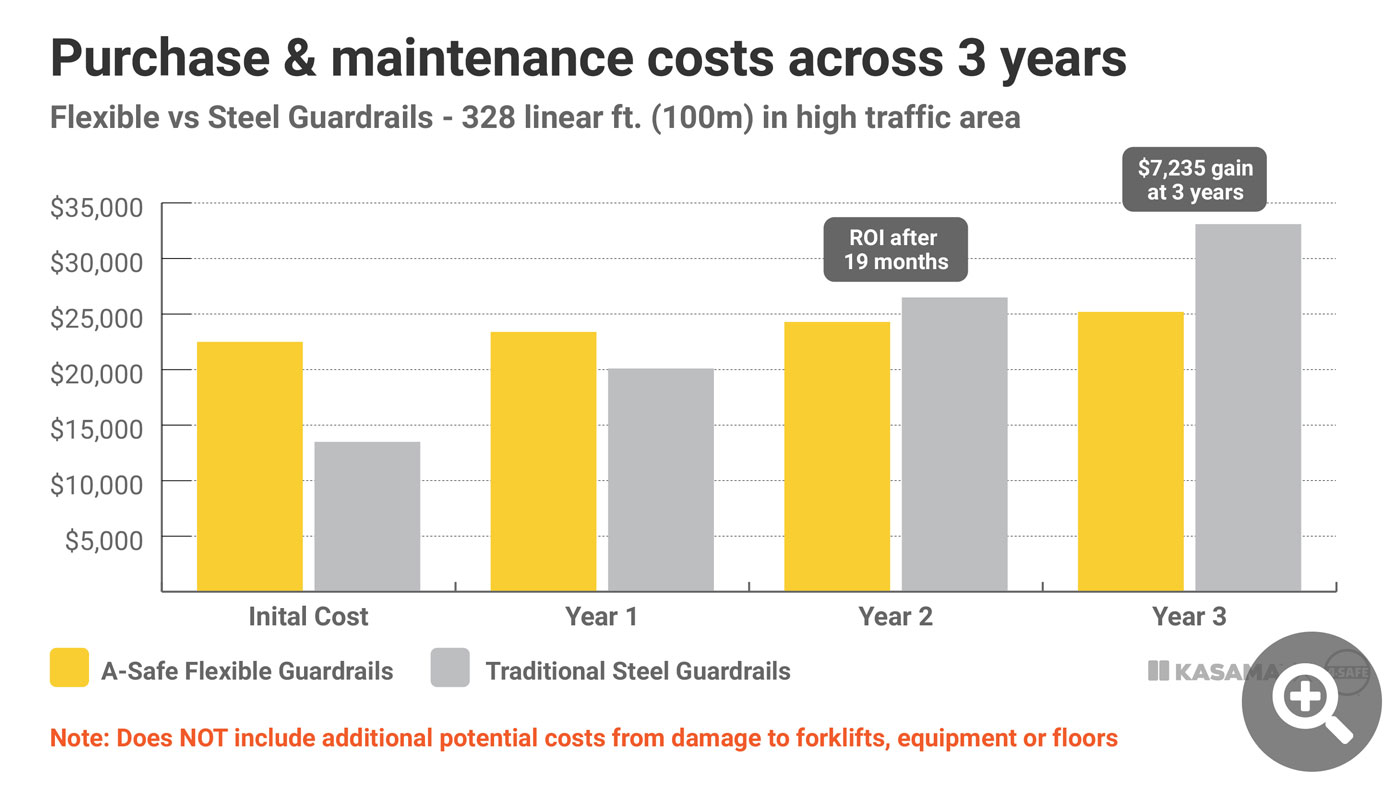 5. High return on investment
Thanks to all the technical advantages of flexible collision protection products over traditional steel alternatives, a return on investment in most busy facilities is often seen within the first 2 or 3 years.
Although flexible devices come at a higher price point, A-Safe products and other flexible devices should be considered an investment- In a typical 100 meter installation in a high traffic areas seeing ~100 passes within a 24 hour period- the return on investment can be realized around the 19th month. These estimates don't even take into account needing to repair floors, or the cost to repair damage on your forklifts! If a steel guardrail, rack protector or bollard fail entirely, costs can be comprehensive and widespread.
Because guardrails and bollards are intended to be a long term solution, the longer A-Safe products are in your facility, the greater the ROI. And because they are designed to be low-maintenance, they require only basic cleaning and retain their finish and appearance year after year- even after impacts.
In one example, Gatwick Airport in the UK was spending over $125,000 (£100,000) annually on barrier replacement and floor damage repairs. After switching to A-Safe, the spend plummeted to just $3,700 across five years. They saved over $375,000 in these costs in the first 3 years alone!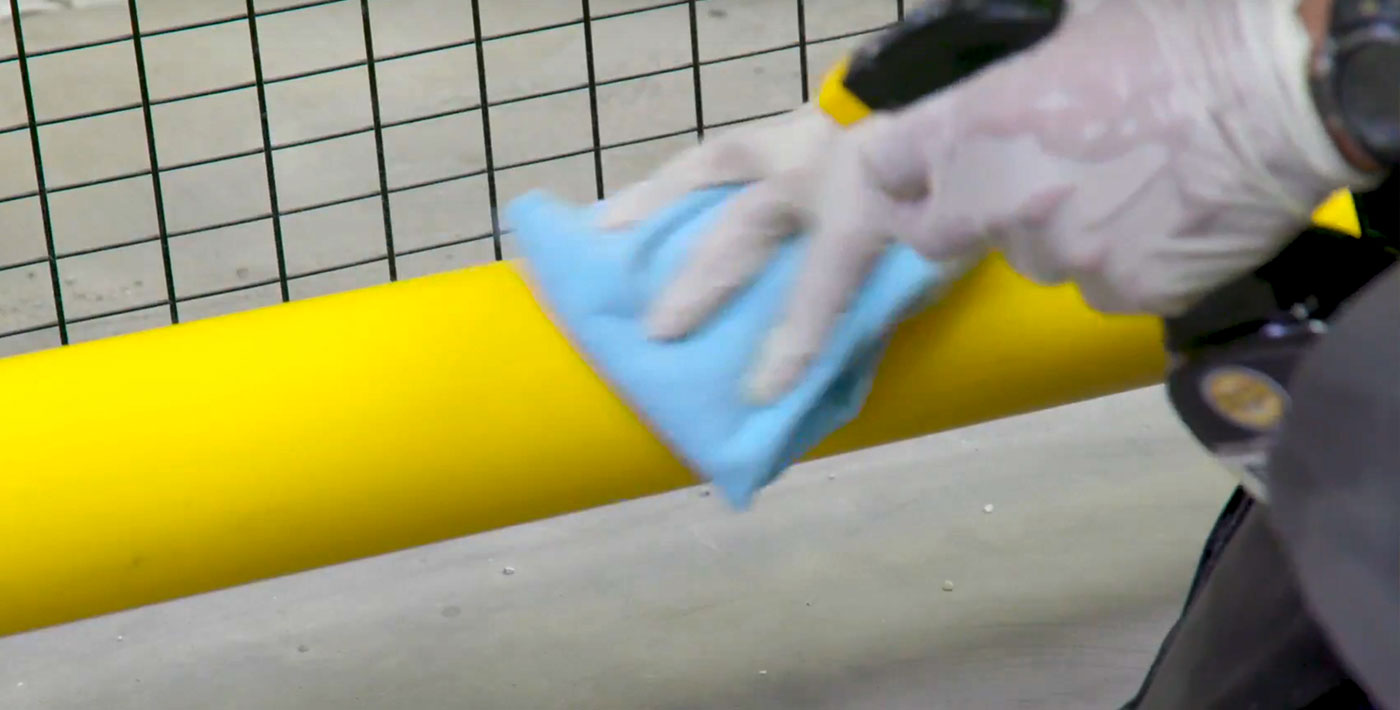 6. Food and beverage industry-safe - Easy to clean, no FOD or foreign debris
A-Safe products use a proprietary colored PVC polymer in their construction that is not only flexible, but also non-porous and doesn't produce any FOD (foreign object debris) risks, making them invaluable in food and beverage industries. Typically, these industries have had to be very cautious of painted steel products-if not avoiding them outright- as ANY paint chips or flakes or metal bits getting into and contaminating their products is a hazard to their customers and equipment.
A-Safe products can be cleaned with any standard cleaning products, but they've created specialized food/beverage-safe cleaning and finishing sprays to resist microbial and fungal proliferation, eliminate bacteria, and repel dirt, grime and other contaminants for these sensitive facilities. These sprays are high-foam and designed to not run or smear and avoid contamination from dripping or run-off.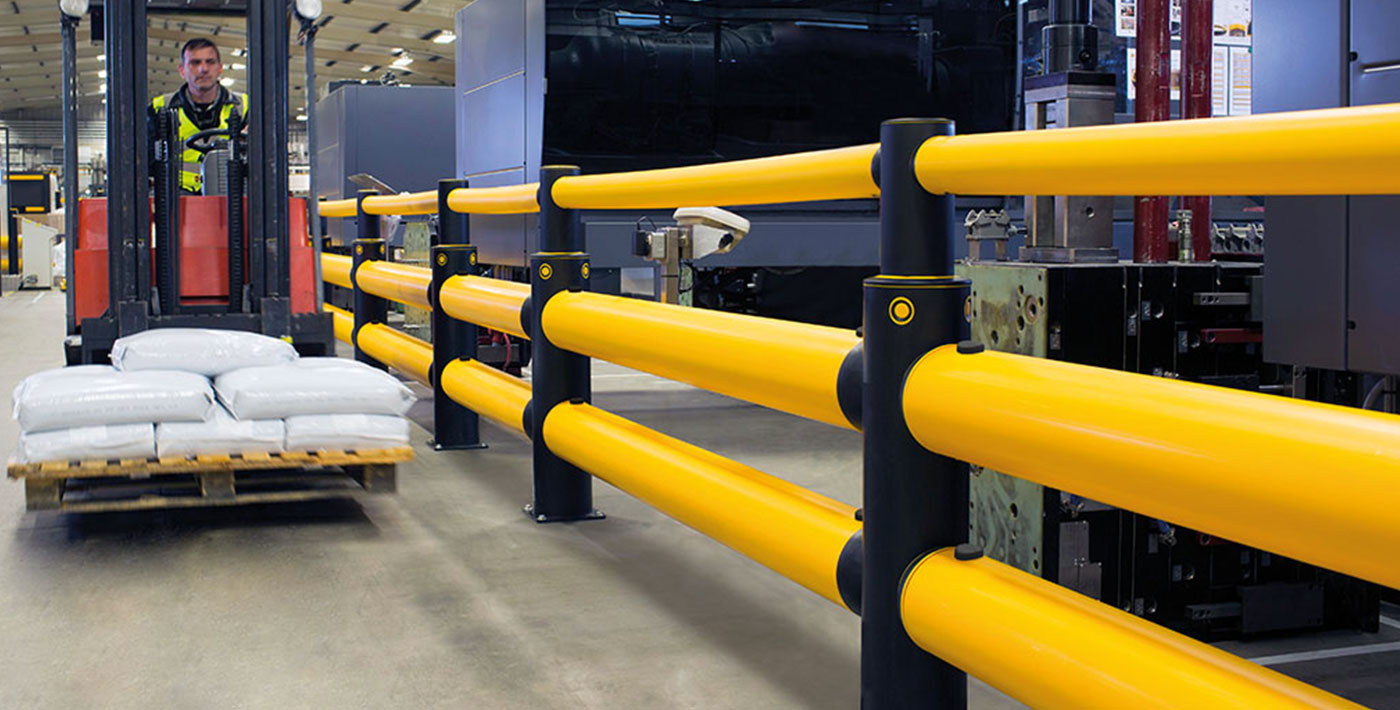 7. Long lifespan
Though lifespan is determinate on many individualized factors in your facility- A-Safe devices have been shown to last far longer than steel alternatives and thus save money on replacement or repair. This is due mostly to the fact that they rebound to their original state should they be struck, and do not require parts replacement under most conditions. Because of their modular nature, if parts are ever needed, it's often an easy fix without replacing the entire device.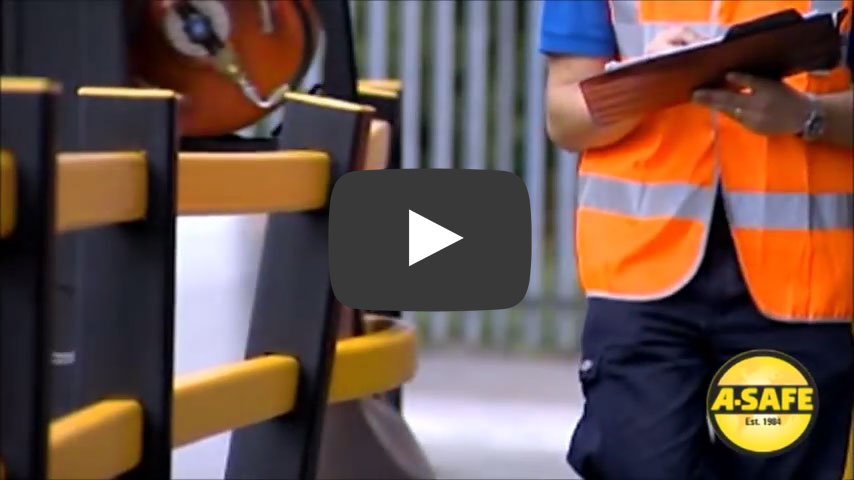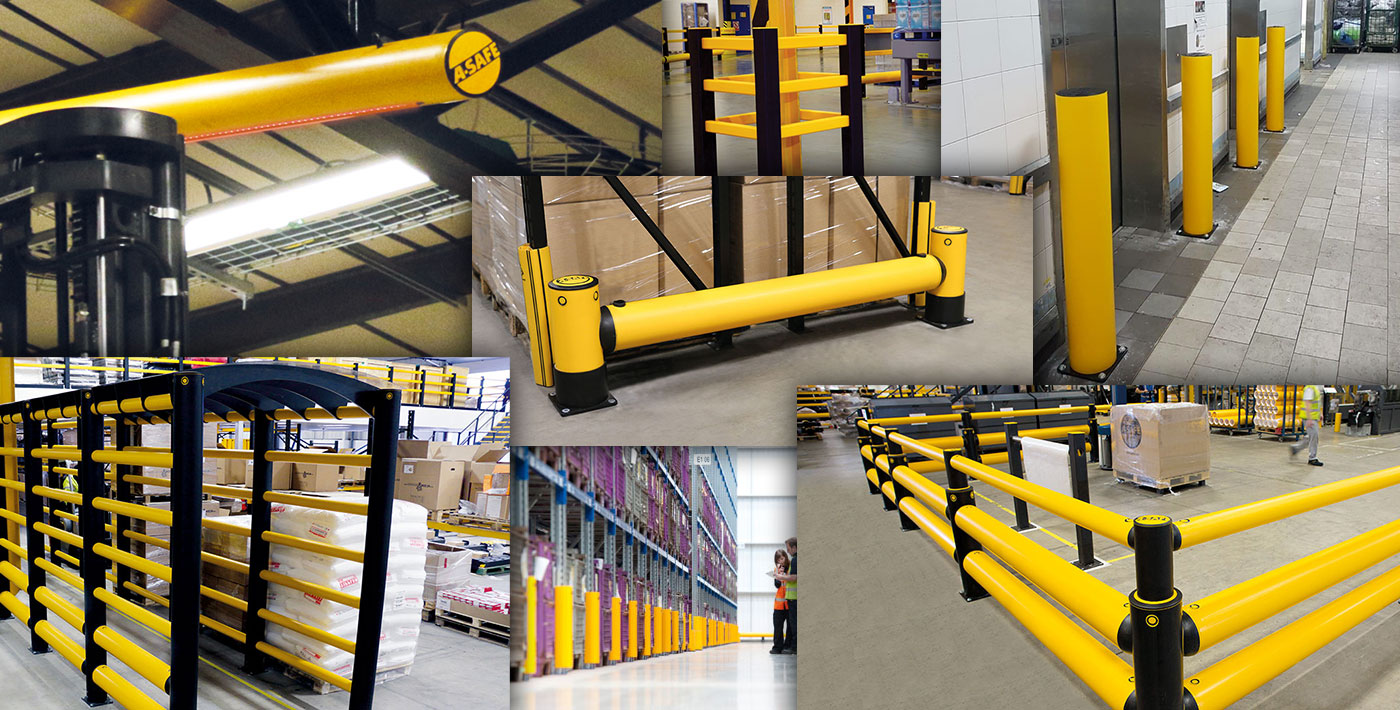 8. Wide range of innovative flexible collision solutions
A-Safe products are available in a wide variety of options and configurations, including:
These products offer a complete range of solutions ideal for any facility- from small organizations to the largest companies and facilities on earth. With innovative solutions being constantly released- including new electronic impact/collision monitoring- A-Safe stays on the absolute cutting edge of safety and protection.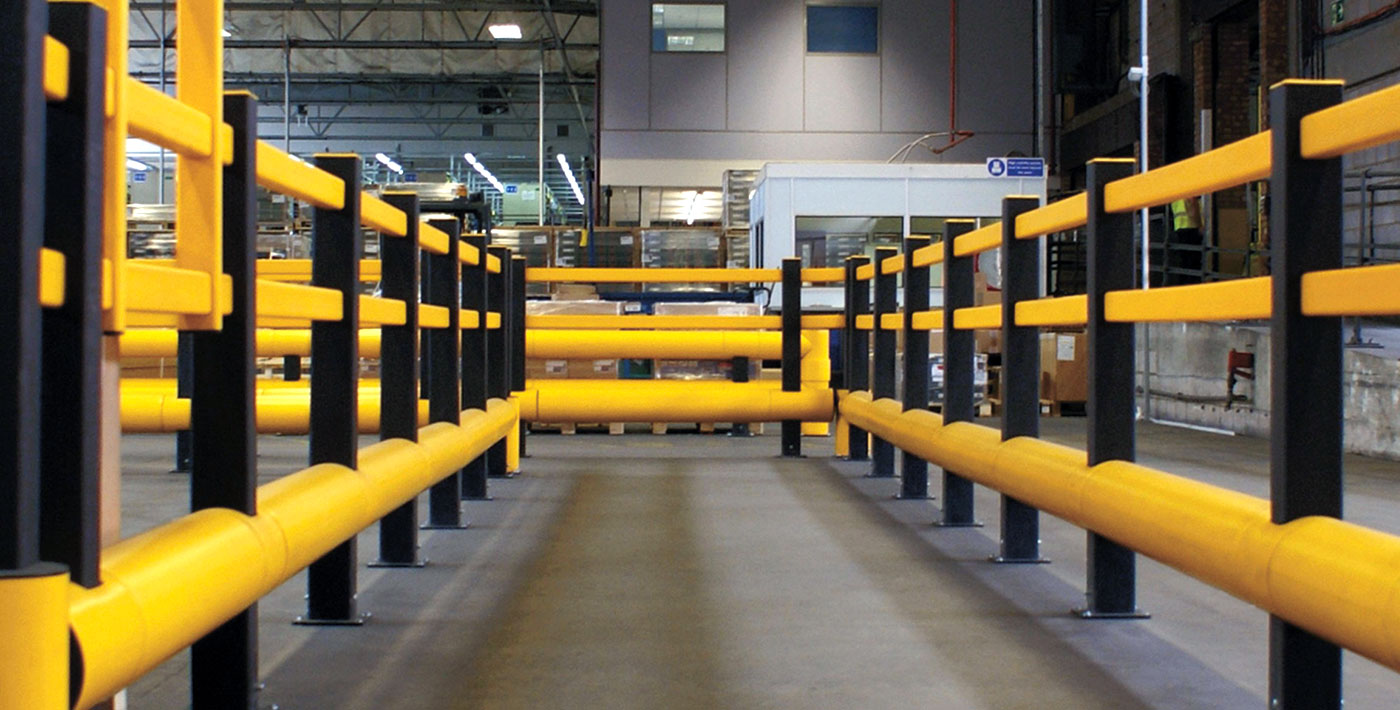 9. World-class performance and appearance
A-Safe devices comply and exceed all testing for safety barriers, and are compliant with PAS 13:2017, a UK-based standard or code of practice for testing, rating, and implementing safety barriers in the workplace and public areas. It was developed in conjunction with DHL, Mars, Land Rover/Jaguar, Nestle and other companies with UK presences.
Because of this, many companies worldwide have already made the switch to A-Safe products in many of their facilities including: IKEA, Coca-Cola, Caterpillar, Unilever, BMW, 3M and countless others.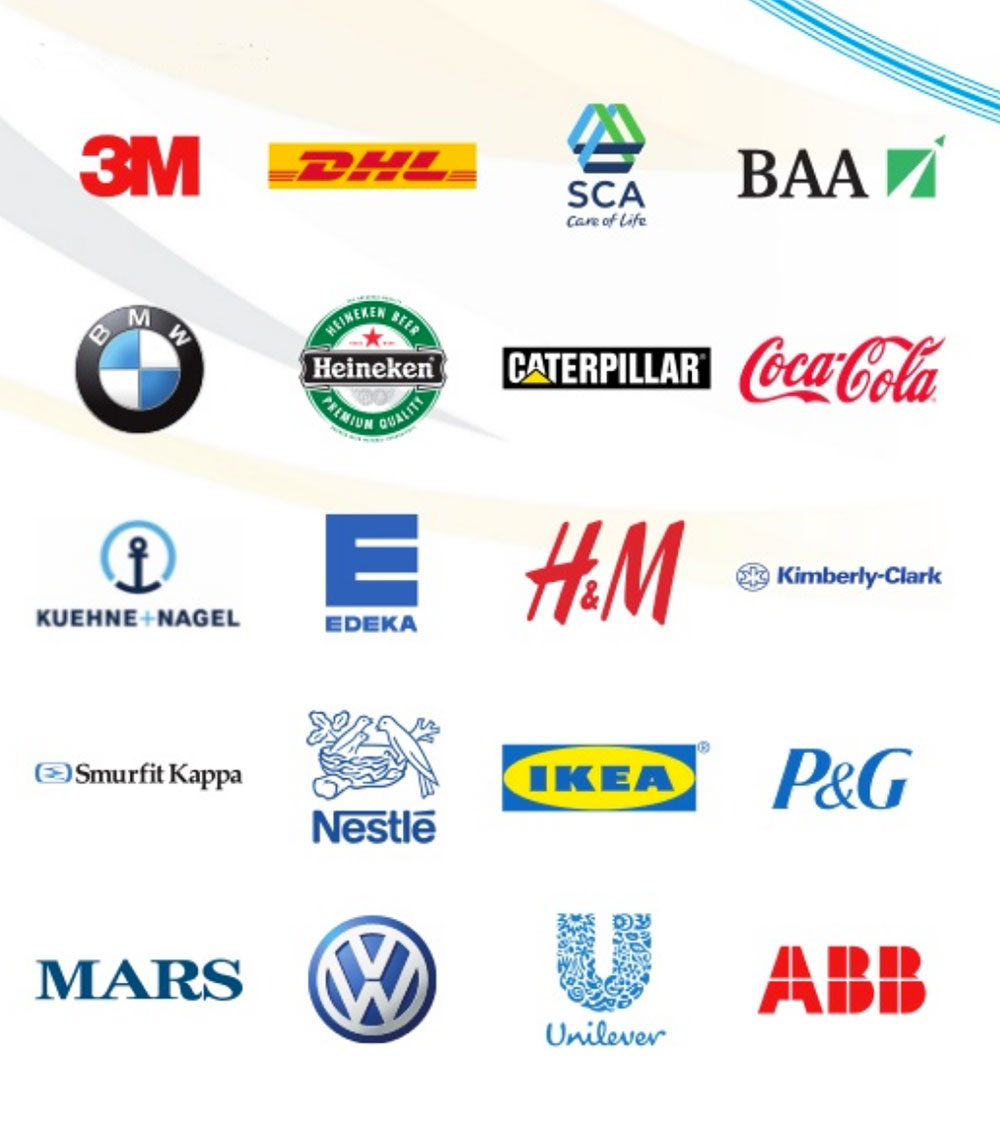 With many global companies going green and being aware of their carbon footprint, it's important to note that A-Safe products generate less that half the CO2 of their steel counterparts during manufacture. Factoring in replacement costs over 5 years, steel products produce over 4-1/2 times the CO2 as an equivalent A-Safe system. Also, A-Safe products can be recycled back into raw production materials!
The A-Safe line of products also just look great. They have a commanding appearance that draws a high level of attention to workplace safety, and help to add to an overall company-wide culture of safety awareness amongst employees in your facility. Additionally, should your building be public, open to clients, or are part of walkthroughs from corporate management, these devices have a stunning visual impact, never need to be touched up, and show a dedication to world class safety and continuous improvement.
Some images courtesy A-Safe® US, UK & Worldwide.
Kasama installs A-Safe® flexible collision protection systems.
Call us at 1-844-4KASAMA to learn more about flexible solutions and pricing, or get a free quote online.
Get a free quote on A-Safe® flexible collision products and installation
---