Use floor marking to direct pedestrian and vehicle traffic, mark boundaries, indicate areas posing safety risks, and communicate important messages.
Floors in warehouses, manufacturing facilities and other buildings can often be overlooked, but if they are utilized correctly, can be a powerful tool for communicating messages about safety, direction, location, and workflow. A good floor marking system will generally include lines to demarcate lanes, aisles, boundaries and paths of egress, as well as signs to display additional information and display any relevant location data such as aisles, zones, fire exits, and first aid equipment locations.

How we can help
Kasama is a leading provider of floor marking services and products for warehouses, manufacturers, retail, and distribution centers. Our interior floor marking services include: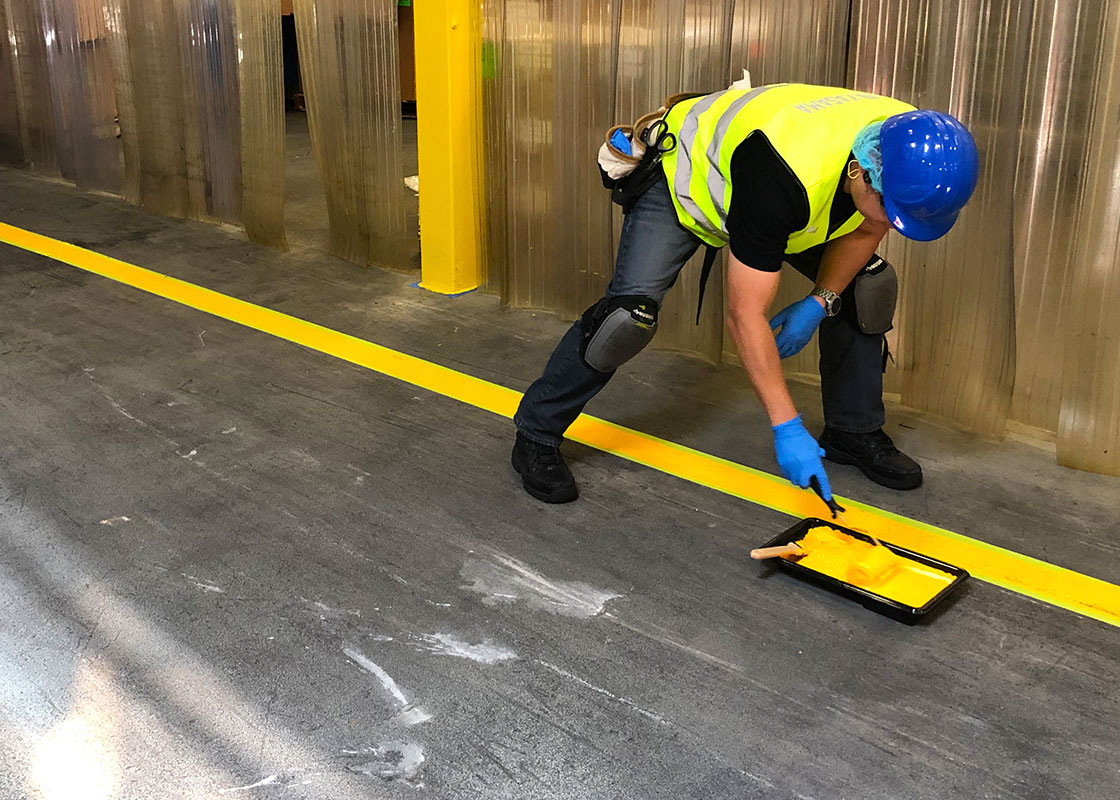 Floor Paint Striping
Our team can install industrial floor paint lines in your facility, either with a paint spraying machine, or manually by brushes and rollers, depending on the needs and limitations of your facility. Our floor paints are dry within 15 seconds and completely cured within minutes, preventing extended downtime. Although yellow paint lines are highly popular, we can install paint lines of any color. We can also stencil painted lettering and graphics of any kind.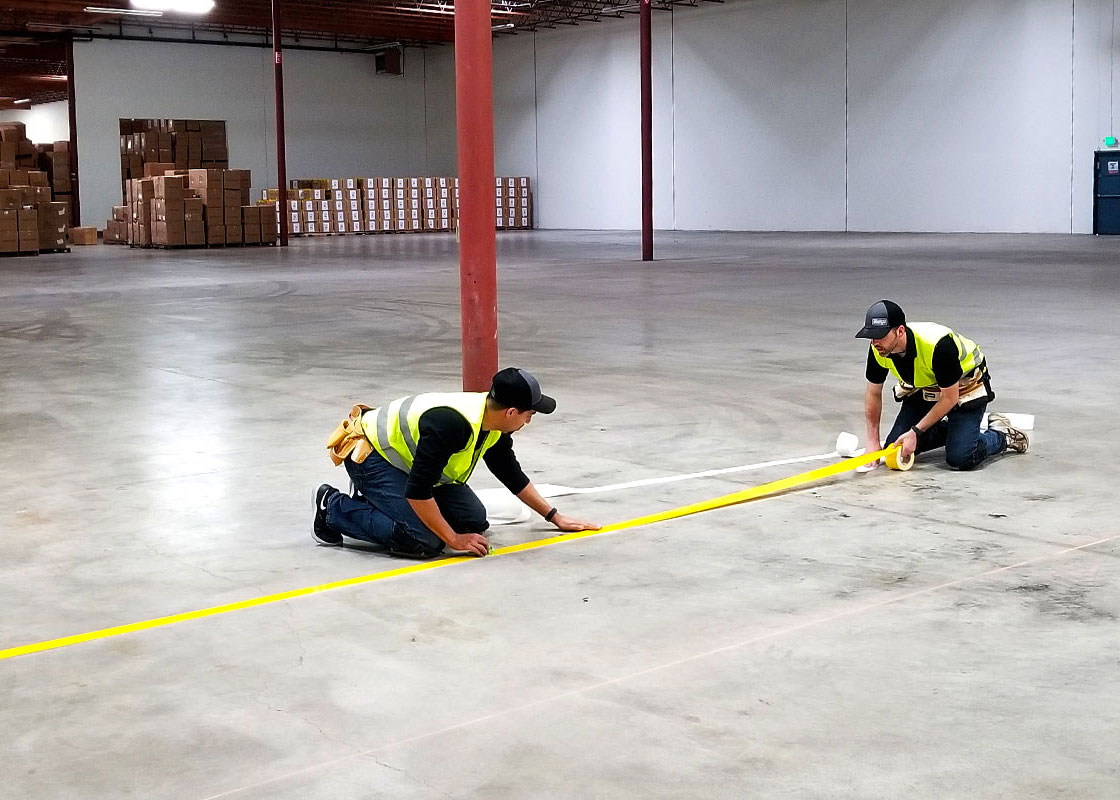 Floor Tape Installation
Kasama can install floor tapes of any kind in your facility- everything from 3M 471 and 3M 764 tapes to the heaviest duty tapes from Brady, SafetyTac, Heskins and more. Our floor marking experts can help you pick the right tapes for your floor type and traffic level and ensure that the lifespan of your tapes is optimized. We carry tapes from 2" in width to 12" in width, and in a wide range of OSHA-supported colors and color patterns.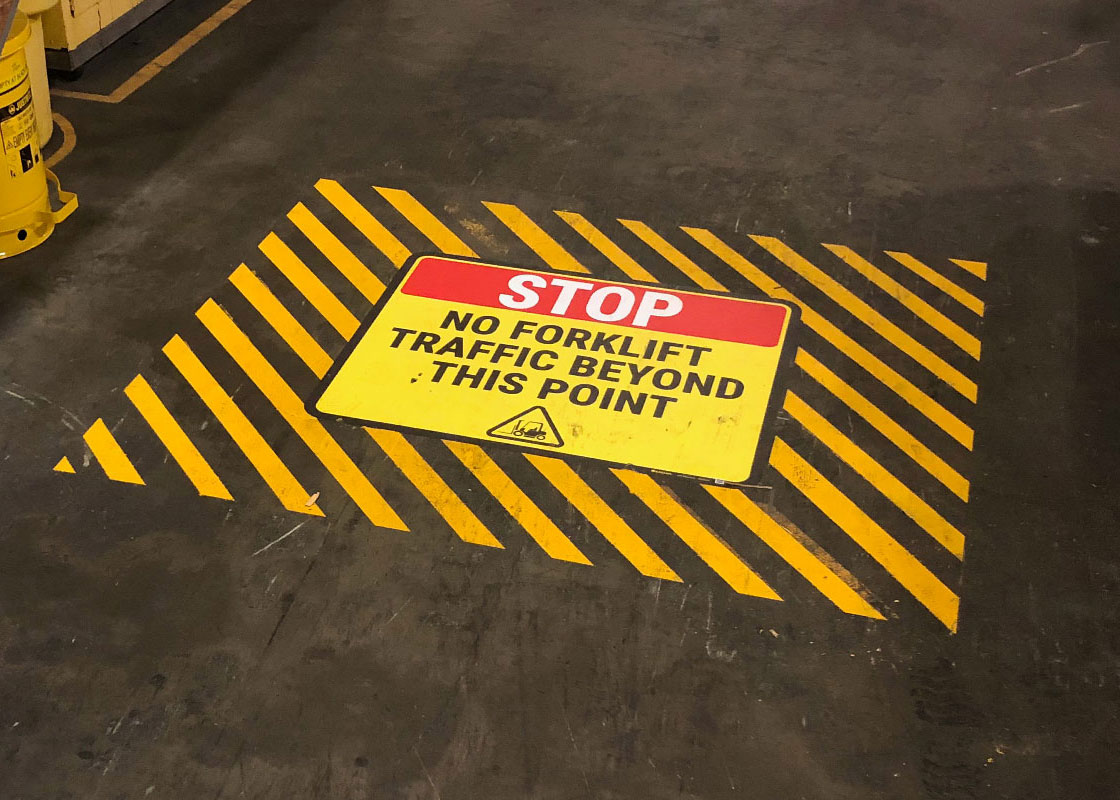 Custom Floor Signs
We sell and install heavy duty forklift-resistant floor signs and graphics, capable of withstanding the toughest industrial environments. Our signs feature an ultra-agressive adhesive and a slip-resistant top layer. We can customize any of our signs to better fit your message, or we can create signs for you from scratch! We can even match existing signs in your facility. Give us a call at 1-844-4KASAMA.

Floor Marking for Safety
Use floor marking to create bright visual safety awareness cues in areas that preset danger to employees, equipment, or property. OSHA has brief recommendations about marking your floors, but good floor marking is more than avoiding OSHA fines- good floor marking can truly save lives and set a tone for overall safety awareness in your facility. Floor marking is particularly important in environments where forklifts, trucks, and other vehicles are present. Creating dedicated safe passages for foot traffic- seperated from forklift activity zones- prevents dangerous and often fatal pedestrian collision accidents. We can also install bollards and barriers to add extra physical vertical seperation of areas.
Marking the boundaries of dangerous areas is a common best practice and can be an important universal cue as to what areas to avoid in your facility, even for first time visitors to your facility. Additionally, marking trip hazards, fall hazards, shock hazards, areas to keep clear, overhead clearance hazards, and other avoidable dangers can be a simple way to maximize on-site safety.
Forklift Lanes and Safe Pedestrian Walkways

Crosswalks

Electrical Areas and Energized Equipment Boundaries

Loading Docks

Generally Restricted Areas

"Do Not Block" Zones

Emergency Exit Route Marking

Floor Marking for 5S
5S is a system of perpetual organization and improvement, developed by Japanese manufacturing experts in the mid 20th century and slowly adopted globally over the last 2 decades by many companies, including many of the fortune 500 industry leaders.
Because of its visual nature, floor marking can help assist 5S programs by providing bright color coding and mark the homes of objects that may move and be misplaced. Light duty tapes are often used on surfaces other than floors- including on work benches, desks and walls, and as color coding banding for tools.
Workspace Boundaries and Color Coding

5S Red Tag Areas

Workflow Process Zone Marking

"Home Location" Marking for Bins, Carts, Vehicles

Instructions and Messages

Warehouse and Distribution Center Floor Marking
Floor marking is crucial for safety and efficiency in warehouses and distribution centers. Use floor marking to provide safe clearances between forklifts and racks and equipment, and to provide safety passages for pedestrians to avoid forklifts.
Make product picking easier with our tough, forklift resistant floor signs to display aisles, zones, and product locations. Floor signs can also be useful for indicating safety hazards such as forklift crossings, as well as safety requirements such as PPE information.
Aisle Marking

Shipping and Receiving Zone Marking

Product Staging Lanes

Re-Striping & Repainting

Safety Walkways

Safety Signs

Operational Signs

Bollard, Barrier, and Guardrail Installation

Rack Guard Installation
Getting Started
We can create a floor marking system for any size facility, and our floor marking team will help you find the right products and solutions to match the unique needs of your site.
It's important to know that different floor types (epoxy, sealed concrete, urethane) require different floor marking solutions, so we recommend giving us a call at 1-844-4KASAMA and we can help with your installation options and project quoting. You can also get a free quote on your project by using the request quote form on this page or by emailing us at info@kasama.us. Once we get your information, we will return your quote within 72 business hours.
If you are in Oregon or Southwest Washington, we offer free on-site audits and estimates. We travel nationwide for floor marking services and audits- if you are outside OR/WA, travel/mobilization fees may be required. Contact us for more info.
Customer Photos
Trust the floor marking experts.
Our team of knowledgeable floor marking pros has over a decade of experience working with a wide range of floor marking products and services and we are dedicated to bringing you industry-leading marking and identification solutions matched to the unique needs of your facility. We guarantee the quality of our work, and our installation team is dedicated to fostering long term relationships and repeat business.
Warehouse Floor Striping Portland
If you're in the Portland, Oregon area, we can come to your site and provide you with a free on-site estimate for your floor marking project. Click here to schedule a free visit.
Get a quote
Fill out this form to request a free estimate. We will respond to your request within 2 business hours, and most quote requests are returned within 48 hours with a proposal.